Pink Ice $43.54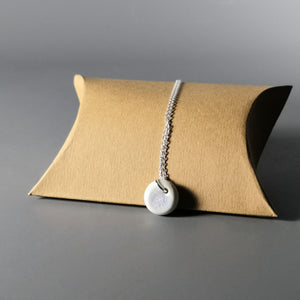 Frozen Sea Foam $46.03
Deep Under Ice $46.03
Clear Water Ice $46.03
Frozen Pool $46.03
Frozen River $46.03
Frozen River $46.03
Ice Cave $46.03
Iceberg $48.52
Sold Out
Frozen Lake $57.23
Lilac Ice $46.03
Frozen Forest Spring $48.52
Frozen Sea Foam Drop $48.52
Sold Out
Clear Ice $46.03
Blue Ice $46.03
Glacier Gradient $48.52
Glacier Oval $60.96
Glacier $60.96
Glacier $60.96
Frozen Sea Drop $48.52
Frozen Sea $48.52
Glacier Pendants
Regular price
$43.54
$0.00
Unit price
per
Tax included.
Shipping
calculated at checkout.
Each unique Glacier Pendant comes with a Sterling silver chain (16" long for small pieces and 18" for larger ones). It looks great as an everyday accessory and completes many outfits. 

The Glacier collection is completely made by hand in my East London studio. Once cast from home mixed porcelain slip, the pendants are cut, cleaned, polished and then fired. For the broken ice effect I am using clear and coloured glass in the final firing.
Pendant sizes:
Pink Ice  1.3 cm 

Frozen Sea Foam  1.8 cm

Deep Under Ice  1.9 cm

Clear Water Ice  1.5 cm

Frozen Pool  1.8 cm

Frozen River  1.7 cm

Ice Cave  1.7 x 2 cm

Iceberg  1.5 x 2.2cm

Frozen Oval Lake  2.2 x 2.5 cm

Frozen Lake  1 .8 x 2.9 cm

Lilac Ice  1.8 x 2 .1 cm

Frozen Forest Spring  1.8 x 2 cm

Frozen Sea Foam Drop  1.4 x 2.1 cm

Mountain Salty Lake  2.8 x 3 cm

Clear Ice  1.7 x 2.5 cm

Blue Ice  1.7 x 2.4 cm

Glacier Gradient  1.9 x 3.2 cm

Glacier Oval  2.4 x 2.8 cm

Glacier  2.1 x 2.6 cm

Frozen Sea Drop  1.8 x 2.4 cm

Frozen Sea  2 x 2.6 cm
About the product:
The production of backorder pieces can take about a week. The lead time for wholesale orders is 3-8 weeks.
Recommendations:

Store in a dry place. Clean with cloth for silver jewellery, avoid direct contact with perfume, creams and body lotions as they can oxidise the silver.
Disclaimer:

Due to the nature of material and making process each piece is unique and can slightly vary in size and finish.
Although I do my best to make sure that the colours displayed on the website are accurate, the actual colours may vary. Differences in monitors and the device you use to view the website will result in subtle differences in colour and textures. Therefore all colours shown online are for guidance and information only. 
Delivery options
Destination

Standard
Free 
UK
£3.95
over £30
EU (tracked)
£20
over £200
US (tracked)
£30
over £230
Rest of the world 

(tracked)

£55
over £285
---